Trucks Thunder HI - Polished
About Thunder Polished HI skateboard trucks
Set of 2 trucks
The Polished trucks give you the turning response Thunder Trucks are known for. Thunder offers up a lightweight, durable truck that is guaranteed for life.
ORIGIN
Made in the USA - Made in San Francisco, California
NON-COMPATIBLE RISERS
Risers from the following brands are not compatible with the baseplates of these trucks.
Arbor
,
Diamond
,
Dooks
,
Girl
,
Independent
,
Loaded
,
Paris
,
Rayne
,
Sector 9
SIZING REFERENCE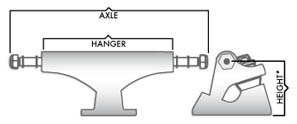 Note - Every skate truck brand represents their sizing a little differently, so it's easy to get confused. Take a look at this graphic and then reference the size chart.
SIZING
| SIZE | 7.125 AXLE | 7.6 AXLE | 8.0 AXLE | 8.25 AXLE | 8.5 AXLE | 8.75 AXLE |
| --- | --- | --- | --- | --- | --- | --- |
| THUNDER SIZE: | 143 HI | 145 HI | 147 HI | 148 HI | 149 HI | 151 HI |
| HANGER (MM): | 115.0 | 127.1 | 137.0 | 143.8 | 149.6 | 156.0 |
| BOARD RANGE (IN): | 7.0 - 7.38 | 7.38 - 8.0 | 7.75 - 8.25 | 8.0 - 8.5 | 8.25 - 8.75 | 8.5 - 9.0 |
| HEIGHT (MM): | 49.78 | 49.78 | 49.78 | 52.3 | 52.3 | 52.3 |
| WEIGHT (G): | 310.1 | 325.0 | 337.3 | 357.0 | 363.5 | 365.1 |